Welcome to Rock of Love Wiki

Edit
This wiki is about an American reality television dating game show. It features Bret Michaels, the lead singer from the band Poison.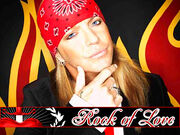 Since 1986 when MTV introduced the world to the blue-eyed lead singer of Poison, women around the world have worshiped Bret Michael's as a veritable Rock God. Never out of the spotlight, Bret's career is still rocking with Poison and as a successful solo artist and the women are still lining up in hopes of a lying down with the sexy star. But the demands of life-on-the-road for the ultimate rocker have taken a toll...on his love life.

Twenty lucky ladies will get their chance for an All-Access pass to Bret Michaels' heart and to share in all his superstar lifestyle. Bret will invite twenty handpicked beautiful women to move into his rock and roll palace in the Hollywood Hills and compete for his heart. They must win over his mind and his body by proving their love for Bret, their passion for rock and their potential to be the perfect "Rock Star Girlfriend."

Each week, Bret will design challenges to test the girls' ability to adapt to the true rock 'n roll life. Not always red carpets and award shows, who will best adapt to life in a cramped, grungy tour bus with Bret and his roadie buddies? Who can handle the competition from outrageous, and sometimes hotter groupies? Who can keep her cool around his famous friends? Who can best contribute to his music? Who's not afraid to get down and dirty with him in one of his extreme sports competitions. And perhaps most vital - who will always look smokin' hot doing it?

The girls who best meet Bret's needs shall be rewarded with exclusive gifts, dates and travels worthy of a music superstar. Over several weeks, Bret will offer the women who rock his world VIP passes allowing them to remain in his home - and his heart. The women who don't will be sent packing. Competition will be ferocious - for in the end only one lady will walk away a true Rock Star Girlfriend.
The first season featured 25 girls competing for Bret's heart. The girls faced challenges; the winners of each challenge spent time with Bret on a "date". Some of the challenges were based on situations they might encounter if chosen to be Bret's girl. The winner was 24 year-old, Jes Rickleff from Naperville, Illinois. At the reunion she revealed she did not have romantic feelings for Bret, and that she thought he should have chosen the runner-up, Heather.

The second season featured another set of 20 women. This time around Bret chose 37 year-old Ambre Lake from Los Angeles, California. After the show the two maintained a relationship, but parted ways after just a few months. The third season premiered on January 4, 2009. The finale of the third season was a series high for VH1. Bret chose contestant and Penthouse pet Taya Parker as the winner of the third season. In an interview with VH1 on April 20, 2009, Michaels verified that they are still in a relationship. When asked about a fourth season of the show, Michaels said "Now they want me to come back for a fourth 'Rock of Love.' I feel that it should be something that changes up, but I still want that fun element. What you see is what you get with me."
What is your favorite winner?